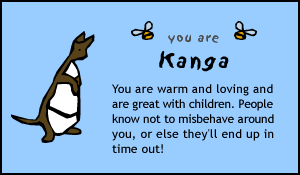 Take the 100 Acre Personality Quiz!
I found this cute little quiz over at
I'm an Organizing Junkie
. I don't usually do these, but couldn't pass this one up. Plus, I had some time to kill, so I decided to take it. :-) It's a 12 question quiz, so if you have time and ever enjoyed the 100 Acre Woods, check it out. Leave a comment and let me know which character you are!